Visit the Leader Main Arena to enjoy the most fun-filled and high action line up of dog displays and demonstrations. Our jam-packed schedule includes the best canine talent to amaze and amuse all ages. Have the chance to meet Ireland's incredible dogs with jobs and learn about their responsibilities; you'd be barking mad to miss it!
The Leader Main Arena will also play host to scheduled Breed Meet-ups throughout both days. 
NEW for 2023, your canine companion will have the chance to be the pawfluencer they were born to be.
Watch them strut their paws down the red carpet and get some insta-worthy snaps by our paw-parazzi! 
This unforgettable experience will be included in the price of your ticket.
DUBLIN: DSPCA DOG SHOW & SNIFFARI
If you're not in you can't win! DSPCA Dog Show and Sniffari has a jam-packed schedule of competitions each day. Categories include cutest puppy, junior handler, best rescue and more! Enter your dog for their chance to take home a rosette and some fantastic prizes all while donating some much-needed funds to the DSPCA. Each entry costs €3 with all proceeds, less booking fee, going to the DSPCA.
CORK: IRISH GUIDE DOGS FOR THE BLIND DOG SHOW
Canines of Cork, get ready to compete! If you're not in you can't win! The Irish Guide Dogs for the Blind Dog Show has a schedule of fun competitions for your pup to enter. Categories include most supportive dog, golden oldie and more! Enter your dog for their chance to take home a rosette and some fantastic prizes all while donating some much-needed funds to the Irish Guide Dogs for the Blind. Each entry costs €3 with all proceeds, less booking fee, going to the IGDB. 
PETINSURANCE.IE OBEDIENCE RING
Dogs and their owners can be put through their paces with some of Ireland's expert trainers. Let your dog show you how well they can do with basic commands, socialisation and much more – maybe you'll both learn some fun new tricks to impress your park pals!
Hay you, don't paws, you've got to try this! See how fast your dog can hop, skip, and jump its way over our hay bale obstacle course. A hilarious activity suitable for all dogs to try out and have some fun.
The Leader Main Arena will play host to scheduled Breed Meet-Ups on both days in Dublin and Cork. 
Check out the Dublin schedules and Cork schedules to see what time of day your fluffy companion can meet up with others of their breed and really feel part of the pack. For the pawrents, it's an opportunity to share stories and maybe even set up a play date!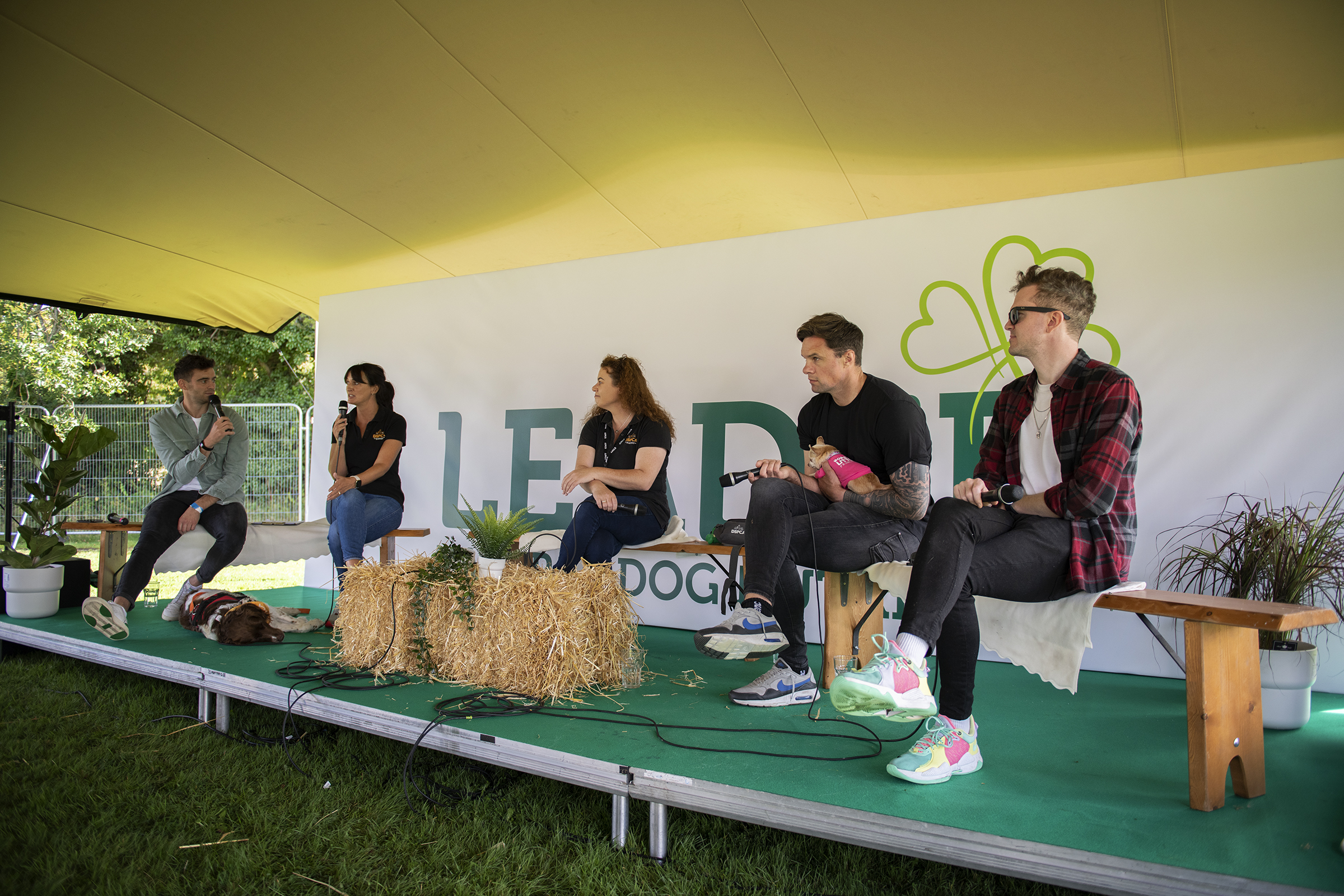 Our talk stage will play host to Ireland's very best veterinary and canine experts including Pete Wedderburn and more. MC Dara Quilty will be hosting talks and masterclasses on everything from training, behaviour, health, and enrichment. The Talk Stage schedule will include all the tools you need to make sure that your BFF (best furry friend) is living their best life.
Visit the Leader Bark Park, where your pups can enjoy a playground of games to keep them active and occupied! They can explore our Leader jumps, our ramp and hoop game, and even check out our dog-friendly Pick-and-Mix.
Let them in on the fun by taking home your very own bag of goodies for your dogs to enjoy – filled with naturally delicious Leader treats, made right at home in County Kilkenny! Come get a snap of you and your fur-baby in the Leader photobooth. Explore a wide range food, treats and more and have your questions answered with our nutritional experts.
Get ready for exciting and fast-paced shows in the Agility Arena. Watch the skilled dogs of Ireland take on our obstacle course with their incredible agility skills as they jump hurdles, dive through tunnels and see-saw their way to the finish line. The Agility Arena showcases how important the partnership between the handler and the dog is. The Agility Arena have-a-go activities are only suitable to dogs with 100% recall and 100% wait.
The perfect spot for our smaller furry friends! Socialise your pup and have some fun in the Puppy Play Pen. The Puppy Play Pen is only suitable to fully vaccinated dogs under 12 months old.
Embrace the adventure and unique Irish landscape with The Great Dog Walk. A perfect opportunity for some quite time with you pup if they need a break from the excitement of the day.
Feel the wind in your fur as you take part in the 2km Great Dog Walk led around the beautiful surrounds of Marlay Park and the Cork Showgrounds. 
VILLAGE VETS - DUBLIN ONLY
The Village Vets team are looking forward to welcoming you to Pups in the Park, and we have a range of activities both to keep you entertained and your pets safe.
Our friendly vets and nurses will be giving out free treats – and even doggy bandanas! – at our stall, where we're also hosting a photobooth, with the chance to win a year's free membership of our Pet Health Plan if you tag us into your pic on social media.
We'll also be providing emergency services on the day, meaning you and your pet can have a whale of a time without worrying about any accidents that may occur. If you have little ones, we'll even give them a tour of our real pet ambulance! See you there!
Allow your dog(s) to take a break for some off-leash fun in our two off-leash areas. Please make sure your dog is in the correct area for its size and consider our dog signage on whether your dog is suitable for enjoying the off-leash area.
As the team behind Taste of Dublin we are proud to present Pups in the Park with the very best food offering for the humans to enjoy. 
Our retail village will consist of over 50 exhibitors selling the very latest and greatest dog accessories, food, apparel, toys and more. Check out our list of exhibitors here.